This blog is all about vacation rental property managers in Poipu Kauai.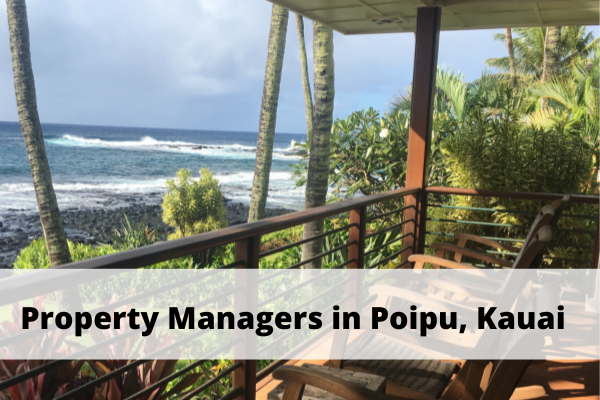 Here I have information, my thoughts, and opinions about picking a short-term property manager in Poipu, Kauai. Short-term or vacation rentals are considered anything rented out less than a 6-month lease. Long-term rentals on Kauai are considered a 6-month lease or longer.
Why You Need a Property Manager on Kauai
The first and most important reason is that it's the law. On Kauai, there needs to be an on-island property manager for short and long-term rentals.
The guests need toilet paper! If anything goes wrong like the guests need TP or anything else there needs to be someone on the island to address their concerns.
Vacation rental guests are "needy" and will have to be serviced more often than a tenant who is long-term. Therefore I recommend having a property manager who is located close by.
Who is Allowed to be a Property Manager on Kauai
Anyone who has their real estate license whose Brokerage allows for short-term rentals.
Unlicensed individuals living on Kauai can be property managers for no more than one owner. And of course, yourself if you live on Kauai.
Therefore your friend, sister, or brother can be a property manager as long as it's for one owner. If you have someone you trust on Kauai that may be a fitting option for you. *Also, the amount of properties does not matter as long as it's for one owner.
Tips for Picking a Vacation Rental Property Manager
Like I said earlier pick somebody / a company that is close by. Vacation rental tenants can be needy.
Pick a company that solely does vacation rentals. Meaning they don't do sales and long-term rentals on the side. I've personally tried to do sales and long-term rentals on the side and it's very difficult to manage both.
Consider their fees. In my opinion, if the company charges 25-35% of the rental proceeds that is a great deal! Many on-site companies charge up to 50%.
Vacation Rental Property Managers in Poipu, Kauai
*Some condo complexes have an on-site property management office or company that has an office on site. I'd recommend checking with them first before exploring other options.
*** I am not recommending any of these companies. I am not affiliated with any of them and have never been a customer. I am just providing information*** 
(808) 742-7400. Located at Kahala at Poipu Kai 1941 Poipu Rd., Koloa HI 96756
Great location for those properties located in Poipu Kai.
1(800) 325-5701. Located at 3176 Poipu Rd. Koloa, HI 96756. They have various offices in Poipu.
(808) 742-7424. Located in Poipu Kai at 1465 Pee Rd., Koloa HI 96746
(808) 638-2501.
(808) 742-7678. Located in old Koloa Town.