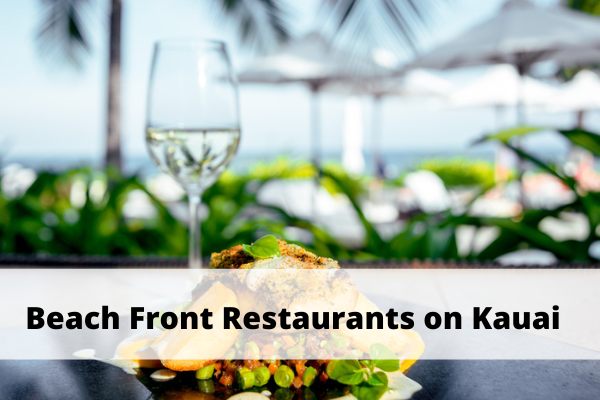 Visting an island surrounded by the ocean it would make sense to visit a beachfront restaurant on Kauai. Many people are surprised that we don't have more restaurants and clubs on the beach. The reason for that is that there is very limited commercial property/space on Kauai. Hawaii and especially Kauai is not a nightlife kind of place. We arent a big city and do not have a ton of options to choose from so don't expect the food to taste as good as the view looks. I'm just being completely honest so that you have realistic expectations!
The Best Beachfront Restaurants on Kauai that I recommend
Be sure to call in advance and make a reservation for a good seat. 

The Beach House in Poipu

Only open for dinner. This is a popular sunset spot and has amazing views during sunset. On the fancier and pricier side like most dinner restaurants in Poipu. They have a pretty diverse menu of local fushion food and good drinks. See their menu here.
Great for a romantic dinner and for a family dinner. If you sit on the outside of the restaurant there is a grassy yard which is great for kids to stretch their legs.

Dukes Canoe Club in Lihue

Open for lunch and dinner. I really like this place for a lunch spot. They have great pupu's and other typical beach food like burgers and fries. Lunchtime has downstairs seating and for dinner, they open up their top floor where there is a better ocean view. See their menu here.
For lunchtime, this is a pretty casual place. People are usually walking around in their bathing suits right outside of the restaurants since Kalapaki beach is right there. However, if you are sitting downstairs I would say there is no real ocean view. Or at least not for short people like myself. But I really like their food and atmosphere. At night they usually have a local band playing downstairs.

Lava Lava Beach Club in Kapaa

I really like their atmosphere because you are literally eating on the beach at this restaurant. Your toes will be in the sand so don't bring heels. It's a relaxed atmosphere and is literally really close to the ocean. This is another spot that I would say could be romantic or great for kids because there is grass around for the kids to play. See their menu here. 
I've only eaten here for dinner and it looks like they have a grab-and-go lunch. Their menu has changed a bit since I've last gone there. I have tried their pineapple fried rice and that was great!

Bull Shed in Kapaa

This restaurant is only open for diners and they don't take reservations for smaller parties. It's a local staple so be sure to go early especially if you want to see the ocean. And if you want a good ocean view seat. Bull Shed is like a steak and seafood house. Their menu is pretty simple meat or seafood with rice or a baked potato and they have a salad bar.
They often have live music and recently they opened an outdoor seating area which I really like. The inside can get a little noisy when it's busy. See their menu here.

Hualanis Resturant at Timbers in Lihue

Hualanais is open for lunch and dinner and right now their website says they are offering breakfast. They have a small and tasty menu check it out here. 
They have a bluff ocean view. Their seating is all outdoors which is nice and its not overly fancy or expensive. Not like anywhere on Kauai is truly fancy. Portions are on the smaller side at this restaurant just a heads up if you are needing bigger portions. I like that the restaurant is not too noisy or crowded.
Looking for something else?
Here are other oceanfront restaurants on Kauai:
St. Regis in Princeville
Oasis on the Beach at Waipouli Beach Resort in Kapaa
Tidepools in the Hyatt
Sams Ocean View in Kapaa
The food trucks in Kapaa – Bring your blanket and have an ocean front meal.