This blog is all about the most expensive homes in Kauai.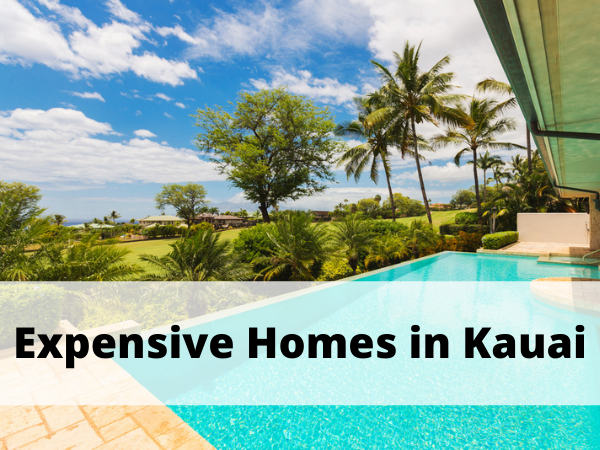 The luxury real estate market in Hawaii is probably one of the best places to live in the world!
Kauai's luxury real estate market does not mean it's the nicest home. There are a lot of different factors that determine what makes a house expensive on Kauai. The most expensive homes in Kauai usually have a great view, a large land area, and are built with high-end construction. Can I add that I notice most of these homes are one level or mainly one level? I love one-level homes.
In this blog, I'll talk about a few of the most expensive homes on Kauai.
The Most Expensive Homes on Kauai 
The most expensive homes on Kauai are always changing. Use this search to see an updated list of the most expensive homes on Kauai.
1. Expensive Homes on Kauai Have Amazing Views
People love ocean views. The ocean is lovely to look at. However, I like more depth like having mountains, or coastline in the view. Views that can be seen from the inside of the home are also important.
Neighborhoods on Kauai that have amazing views are Kealia Kai, Kukuiula, parts of Wailua Homesteads, parts of Kalihiwai Ridge, Anini & Anini Vista Drive,  Aliomanu Estates, parts of Princeville. Eleele Nani on the west side also has some homes with amazing views.
2. Location
Location, location, locations. There are many wonderful locations on Kauai. Most of the most expensive homes on Kauai are located on Kauai's north (Kilauea and Princeville) or south shores (Poipu). Oftentimes near the ocean or overlooking the ocean.
Is it your dream to be right on the ocean?
This property is right on the beach. It is perfect for those wanting to wake up and walk outside on the sand and take a drip in the ocean.
On the other hand, many million-dollar homes on Kauai are on bluffs. It's not a location that would allow for walking to the beach but your investment is a lot more protected from threats of a tsunami and a lot more private.
Inventory is very limited in certain areas. Like Hanalei. Most homes in Hanalei will sell for top dollar even if they are not located right on the shore.
This home is for sale in Hanalei and I'm sure it will sell quickly at this price.
There are so many amazing locations on Kauai it's hard to even choose a few.
3. Large Land Area
"Buy Land They Ain't Making Anymore of The Stuff" ~ Will Rogers
Multi-million dollar homes on the north shore generally come with a lot more land compared to the multi-million dollar homes on the south side. There is a lot more land on the north shore to spread out and own acreage compared to Poipu. If having lots of acreage and privacy is important. I highly recommend the east to north shore of Kauai.
This property in Hanalei is over 220 acres of land! and is a buffalo farm.
Poipu Aina Estates in Poipu has million-dollar homes that have a larger land area. This subdivision does not allow for vacation rentals.
The value of the land on Kauai will never go down. It's so limited. There is no place like Hawaii.
4. Quality Construction and Design
I haven't seen expensive homes on Kauai not be designed by a designer. Homes in Kukuiula and very well designed and built. The subdivision has design guidelines that everyone must follow. You can't go wrong as far as the construction and quality of a home in Kukuiula.
What I love best about homes in Kukuiula is that all of the homes are plantation-style. Hawaiian plantation-style homes are made to be built in Hawaii. It always confuses me when someone builds a Balinese or super modern home in Hawaii. This isn't Bali and this isn't the city. We are in Hawaii.
For example this beautiful home in Kukuiula for sale KUKUIULA RESIDENTIAL
Also, may I mention again that many expensive homes on Kauai that do actually sell are one story? Like this beautiful property on the north shore of Kauai. I highly recommend building any home on a single level for so many reasons!
5. Use and Zoning
Land use and zoning can play a large factor in a property's value on Kauai. In general land on Kauai is more valuable the more properties that can be potentially built on. Or in some cases, land with amazing locations can be zoned Conservation and may not even allow for a home to be built. Or only for the existing structure to stay and not be added on to.
This blog is all about the most expensive homes on Kauai.