Are you looking for a property manager for your Kauai long-term rentals? Read these 5 reasons why I highly suggest hiring a Kauai property management company.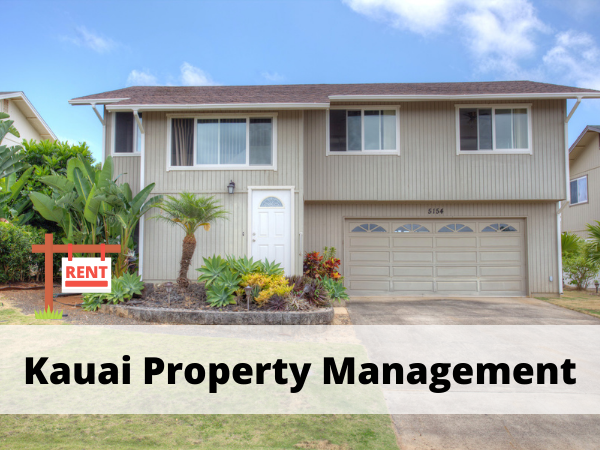 Hiring a Kauai property management company can be a tough decision for some. Right now you may be deciding if you should hire a property manager on Kauai or self-manage. Here are my top reasons why it's really important to hire a Kauai property management company. The benefits greatly exceed the risk or cost.
Here are 5 reasons to hire a Kauai property management company for your long-term rentals.
This blog post is all about hiring a Kauai property management for long-term rentals.  
Kauai Property Management  
*** It is the law to have an on-island property manager***
For Your Protection
Physical and Legal protection.
First, let's talk about physical protection. It is a stressful time to be a renter right now. Rentals are so sparse here. Of course, this is a little extreme however there have been a few altercations with tenants and landlords on Kauai. It is a lot easier to let your property manager deal with giving tenants notice. Then the negative feelings and awkward conversations will be put on us and not on the owner.
Next, legal protection. There are so many discrimination laws! People break them all the time without realizing it. Asking almost any question nowadays regarding housing can be discriminatory. With hiring a licensed Kauai property manager we are familiar with real estate laws and practices. We take classes to learn how to pick a good tenant without illegal discrimination.
Our preference is to let Kauai Dreams Realty make the decision on who the tenant will be. And not even sharing the names of the tenants to the owners. For the owner's protection.
Hiring a Kauai Property Manager Saves You A Lot of Time!
There is one thing money can't buy and that's time!
It takes a lot of time to manage a long-term rental. From finding tenants, answering their questions, doing inspections, managing repairs, and dealing with insurance claims for repairs.
Kauai Dreams Realty has been in the real estate industry for a long time. Our Broker Julie has had over 35 years of experience with sales and property management. We have our systems in place when it comes to finding tenants and managing repairs. From experience, we also know there are 101 things that come up in property management that are not planned for.
By hiring a property manager you will receive your monthly rent proceeds without having to do any of the above work. We still keep our owners updated with any repairs or major events going on with their property.
To Protect Your Investment Property
With a Kauai property management company like Kauai Dreams Realty regular inspections get done to ensure the owner's investment is being protected.
We also keep a record of the property's condition before a new tenant moves in. That way we can be sure its in the same condition when that tenant moves out. Protecting your investment is important to us at Kauai Dreams Realty!
Less Headache, No Drama
It's so nice to not have drama.
A friend of mine had the vision to own multiple rentals and be a landlord. After being a landlord for a year he soon realized it's a job filled with drama!
One of the stories he told me stands out in my head. His tenant was threatening to take legal action because his electrical outlet in the room wasn't working and there was a plumbing issue. The tenant said that my friend was notified about this issue months ago. According to my friend, it was a recent issue and he was working on it to get it resolved. Shortly after he found out his tenant was behaving this way because he wanted to get out of his lease early because he found a cheaper place.
Drama can come in many forms. It could be two tenants having drama with each other and both of them venting their sides to the landlord. Or it can come in the form of your tenant not paying rent or making excuses of why they are not paying. It can even be as simple as a tenant calling to tell you there are ants on the wall and they want you to do something about it.
Headaches and drama can be time-consuming.
There Is a 99.9% Chance of Collecting and Depositing Rents on Time
Because rentals are sparse good property managers are usually able to find really good tenants.
Therefore good tenants will be paying their rent on time. Again from our years of experience we really know how to pick tenants that will pay on time. During COVID only two of our tenants were late for rent for a few months. They then applied for rental assistance and got fully caught up with their rental payments.
Kauai Dreams Realty also does not get paid unless the tenants pay their rent. That makes us motivated to make sure that the tenants we are putting into a home will be paying their rent on time.
This blog is all about why it's important to hire a Kauai Property Manager.  Call Kauai Dreams Realty, 808 822-7774 to inquire about property management.