Owning an oceanfront home on Kauai is a dream to some and a reality for others.  There's nothing more breathtaking, more relaxing, more rewarding then owning a little grass shack or a magnificent estate on Kauai, Hawaii's coast.
The video above is of our newest Kauai oceanfront listing at 4271 Anini Road on Kaua's north shore. Listed 6/6/22 here is the link to the MLS# 662624
                                  4940 Aliomanu Rd.; Anahola, HI / MLS #657403; $3,250,000-Sold.
If you're searching for an island beach home you need to ask yourself a few questions:
Do I want a certain side of the island?  The west side, Poipu, the east side or Hanalei?
Do I want or need for it to be an income producing vacation rental or do I want it all to myself and my family and friends?
Do I need to see it before I buy, or will I buy it via Facetime and other videos?  Fortunately, due to the high prices of beach homes, they don't sell as quickly and you should have time to make your plane reservation.
What is your price range?  On Kauai if you are looking under a million you may want to consider a condo instead.
Searching for a Kauai oceanfront home:
Once you have established some guidelines, I or your agent can set up an automatic MLS search for what you are looking for.  Oceanfront is a searchable field in Kauai's MLS.  You can also search here for a current list of oceanfront homes.  
However, there can be idiosyncrasies with the MLS search features.  One of them is that the oceanfront field is only searchable if the listing broker checks the field.  Most brokers do, but you do get inexperienced or off island brokers who are not that familiar with how the MLS works.
The other issue with searching oceanfront houses on Kauai on the MLS is that sometimes there is a strip of land in front of the property belonging to the county or state.  A good example of this is the Kapaa Bike path that fronts property from Kapaa to Kealia.  Kealia Kai has some magnificent beach estates, but they may not be marked as oceanfront due to the county owned bike path between the beach/shoreline and estates.
Vacation rental vs. non vacation rental:
There are 2 ways to search the Kauai MLS for legal vacation rentals.  One is to search if the home is in a Visitor Destination Area (VDA).  If the home is in a VDA are in Poipu but is not currently being used as a vacation rental, it can still be used as a vacation rental in the future.  The other way is to search if the home is currently being used as a short-term vacation rental.  Legal vacation rentals not in the VDA have a Transient Vacation Rental (TVR) number which is transferable to the new owner.  A home that is not in the VDA and does not have a TVR number cannot be used as a vacation rental. That doesn't mean that you or your friends can't stay for a short period of time. It does means you can't rent it out for a short period of time.  (Hint: Don't try and beat the system.  It's not going to work).
So, what constitutes a vacation rental on Kauai?  According to the Kauai County law it's less than 180 days or 6 months.  If you don't want to rent out your oceanfront Kauai home, you can have a caretaker or our property manager can do weekly spot checks.  However, I find Kauai's beach communities are a tight knit group and look out for each other and their homes.  You may have a lot of questions when buying a Kauai oceanfront or Kauai beachfront home.  That's where an experienced Kauai Realtor comes in.  Our island is small, and inventory can be limited, but with perseverance we should be able to find you your Kauai dream home.
Is Buying a Kauai oceanfront/beachfront home right for you?:

If you can visualize yourself waking up to the relaxing sound of  the ocean waves every morning and viewing the serene sunrises or spectacular sunsets, buying a Kauai oceanfront home or condo may be right for you.  Kauai oceanfront homes are some the the most desirable property on the island of Kauai. Have you decided? Contact me, Julie Black  to make your Kauai beach home buying dreams come true.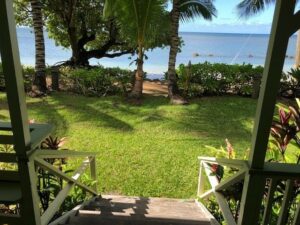 Other resources:
7 Tips On Kauai Oceanfront Homes That Will Help You Make A Great Purchase!

Hawaii Shoreline Setback rules and questions answered:
Julie Black RB-14203
Realtor/Principal Broker/Owner
Kauai Dreams Realty
CLHMS, CRS, GRI
808-822-7774-office 808-652-6174-cell