Want to know what to look for when looking for Kauai Oceanfront Homes? These tips will tell you everything you need to know to make a great purchase with no surprises!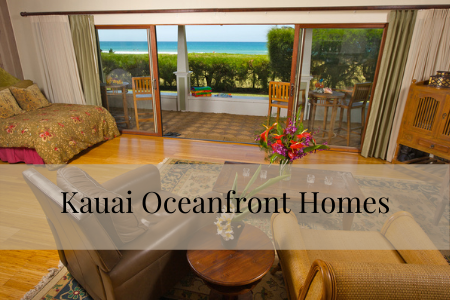 Considering purchasing oceanfront property on Kauai is extremely exciting. It's everyone's dream (or almost everyone's) to live near the ocean or vacation near the ocean. Being close to the ocean does pose a few more complications compared to a typical home for sale. That is why I am writing this blog to go over my top tips when searching for Kauai oceanfront homes.
Making a real estate purchase is a big decision. Being a Realtor who has sold a few oceanfront properties I want my clients to be happy with their purchase and know 100% what to expect with their oceanfront property.
After reading this blog you will know exactly what type of oceanfront home you will want to purchase.
This post is all about tips for buyers looking for oceanfront properties for sale on Kauai.
Kauai Oceanfront Homes  Search Tips:
1. Setbacks and corrosion
How set back is the home and are there any sea wall issues? Sea walls can be very expensive and not encouraged by the state because sea walls create more corrosion. There are Kauai oceanfront homes that have illegal or non-approved seawalls. The state is strict with what types of materials can be used for seawalls.
Make sure your oceanfront property lasts!
Here is a news article on the topic. 
2. Land rights and access
A few areas on Kauai have land that is designated for Native Hawaiians to fish, hunt, camp or partake in cultural activities. This land is often located between the ocean and beachfront homes. Owned by the Department of Hawaiian Homelands.
A few oceanfront properties also have public beach access easements alongside them. Be sure to find out if there are any easements for the public if having occasional passerby's is a concern.
3. Does the home need to be a vacation rental?
Not all oceanfront homes on Kauai are legal vacation rentals. The county of Kauai is very strict with illegal vacation rentals. Therefore, if a property is not located in the visitor destination area (VDA) or does not have a transient vacation rental (TVR) permit then it cannot be vacation rented.
A short-term rental on Kauai is considered anything less than a 6-month lease.
4. Is the ocean swimmable?
Do you want to see the ocean or be able to swim in it? A bunch of oceanfront homes on Kauai are located on beaches that are not easily swimmable or on a cliffside. Decide whether you want to view the ocean or have to be able to swim in it or both!
Some waterfront homes on Kauai are not right in front of a swimmable ocean however a bay or calm water can be found a short walk away. In my opinion, this is an ideal oceanfront property. Because people won't be gathering in front of your property and you can still swim in the ocean a short walk away.
5. Homes sewer system
Is the property on a cesspool, septic system, or sewer? On Jan. 1, 2050, the state is requiring everyone who has a cesspool to upgrade to a septic tank. Only time will tell how they will enforce this. However, my guess is that the state will really be going after properties that are close to the ocean and streams. Properties near oceans and streams usually require a special kind of septic tank anaerobic system which is more expensive than a standard septic tank.
There may be more complications with installing a septic tank near the ocean, be sure to talk to a professional if the property is on a cesspool.
6. Privacy
Not all oceanfront homes are private. If privacy is important be sure to mention that to your Realtor. Reasons, why a waterfront home may not be private, is because it's right next to a town, right next to a popular beach, or right next to the main highway.
7. Is an oceanfront home with a 2nd story ok?
Many homes near the ocean like the one pictured below are build high. Homes like this one below in Anahola are built high because it's in a flood zone.  Not everyone that has two levels is in the flood zone. However, I've noticed many homes built near the ocean are 2nd story homes. Decide whether you need a single-level home or if two levels are okay. Some people are okay with a 2 level home as long as there is at least one full bathroom and bedroom downstairs.
This post is all about Kauai Beachfront Homes.
Other Posts You May Like: