Shopping on Kauai for office furniture in the 90's
Trying to shop for items located in the mainland can sometimes be trying on Kauai. When I opened up my office Kauai Dreams Realty in 1997, I needed to purchase office furniture. 1997 was pre Home Depot (2003) & pre Costco (2006). Most of my office supplies were obtained from  the now defunct Kauai Office Equipment. They did not cater in furniture. They didn't really cater at all but did stock basic office supplies.
I ended up calling Fisher Hawaii in Honolulu a few times and thankfully found an employee who gave me the time of day. I ended up ordering 5 desks, a lateral filing cabinet and a bookcase in a white laminate. They came on the barge disassembled and my husband and I picked the boxes up at the harbor.
This is just how you got mostly anything back in the day. You ordered, it came on the barge, and you picked it up. Luckily my talented husband, Milton, "Jojo" Caspillo and his friend Richard Galvez assemble it all for me. I was in business!
Over the years I ended up ordering new office chairs. By this time most places had gotten use to the internet and my search was easier. But shipping was not. FedEX dominated shipping from these mainland furniture/office supply companies. But to a little island in the Pacific, shipping FedEx was at a catastrophic cost. Finally my office manager found a company willing to ship via a barge.
I need new furniture for our office at Kauai Dreams Realty:
Now 24 years later my laminate furniture has seen better days. A bit of the laminate is worn and the press wood is showing through. Other places the laminate is peeling. It's still functional but it's just not the professional look I want to convey.
My quest for new office furniture has begun and as expected it hasn't been easy. The main option Office Depot which is affiliated with or bought out the former Hopaco carries office furniture. They have a decent selection, but it's all laminate and press wood. As the saying goes " been there done that". Stephanie (my office manager) called Fisher Hawaii again, we sent a helpful employee a list of what we needed. We followed up a few days later, he promised a quote on Monday. Friday came and we still had no quote, photos, or anything, we followed up again. Another few days we get a basic quote, with no photos or links or any follow up. We had no idea what the quote was for.
Wayfair was not any better. When Stephanie, sent an email we were emailed back a few days later and told to book an appointment and the service rep would get back to us. She booked an appointment and no one called. We emailed back and we never heard back. We did call our local furniture store Otsukas, the employee there gave us 2 websites to see if we liked anything. Unfortunately the 2 websites did not have much of a selection.
Our search then continued to almost every office or furniture store listed on the web, craigslist, Malama Auctions, and on island stores including Two Frogs Hugging. Most of the mainland stores would not agree to ship to Kauai on the desks and other large items. No surprise there. But then I saw some sustainably farmed mango wood desks on West Elm that I got excited about. These would work! Of course they don't ship large items to Hawaii. So we are working with a shipper and West Elm to see if this can work. I'm hoping for a happy ending to this story/blog. I will add to this post in the future once/if we get new furniture.
My search for a home office desk ended well: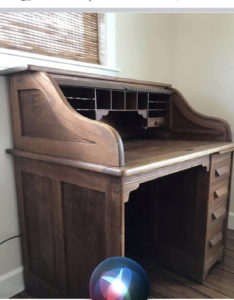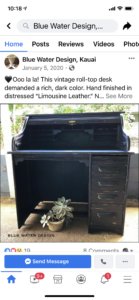 After a couple months of looking I found this old wooden roll top desk on a Facebook posting by a friend. The owners were selling their house and some furniture in Poipu. The dimensions and style were perfect. I had Blue Water Designs of Koloa freshen it up for me and this desk creates a great home office work space.
But this is just one desk I needed for home.
The good news is that West Elm has been helpful in their communication. We are awaiting our business account to get approved because we needed a bill of lading for the freight company. West Elm would only give us the information we needed for the bill of lading if we had a business account. When it comes to jumping through hoops, we jump high.
Living on Kauai is the best place in the United States to live. But it does come with a few draw backs. Trying to buy office furniture is one of them. But nothing a couple of persistent women can't do. Stay tuned for updated  photos.
Update 6/27/21: We ordered the West Elm furniture at a 20% business discount. They are shipping the furniture to a freight company in California. Our new office furniture is on it's way!
Update 11/4/21. I"m very happy with our new furniture. It's beautiful. Aloha Freight Forwarders gave us exceptional shipping service. They held all the furniture as it arrived in batches from West Elm, shipped it all at once, and delivered it to our door. Shopping on Kauai can be a challenge. But if you set your mind to it, the results can be very rewarding.  The challenges are worth it. Living and working on Kauai is the best.
If you are interested in purchasing or selling Kauai Real Estate please give me a call or drop me an email. Aloha Julie 808 652-6174  julie@kauaidreams.com