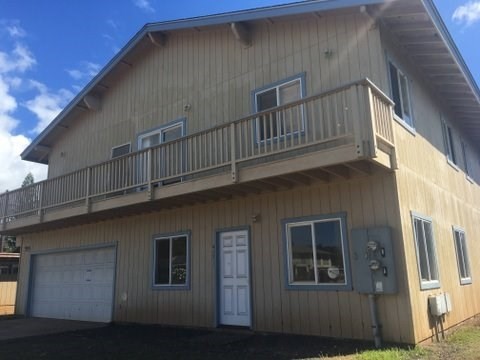 Kauai is a small island with a caring community. Murders are few. But when we have them they make big news. Upon the brutal death of retired Kauai teacher Joellen Hartman on June 19, 2018 I mourned with the rest of the community. However when it came out who the suspected attacker was (Peter Grewer) it shocked me to the core.
Prior to moving in a studio off of the Omao residence Ms. Hartman owned, Peter lived in Kekaha. He bought his 5 bedroom home on Palila Loop in 2004 for $195,000. In 2015 the bank bought his house via a Foreclosure sale for $436,000. I am often the banks first contact after they foreclose on a Kauai home. The bank assigns me a task via a web based platform to find out who's living there. Prior to me traveling to Kekaha, I called the ex-listing agent and she told me to be careful. "he's kinda crazy". I don't have to be told twice. I did go to Kekaha and noticed toddler toys and trikes in the front yard. I braved the front door and there was a tenant living there. I explained the foreclosure situation to her. She told me Peter lives on top a studio like area over the garage. I asked if she can call him on the phone. She did but he did not want to talk to me. Relocation assistance was offered but never accepted. I never talked to Peter in person. Someone else warned me to be careful. My bi-monthly checks reveal he was still living there.
Eviction is a slow process on Kauai. But it started and was making headway. The tenant downstairs left and only Peter was still there on the property.  Sheriff Gary Saiki  had served Peter all his notices. Prior to the physical ejectment, the sheriff and banks attorney's agreed to still pay a reasonable sum for Peter to remove himself and his belongings from the property. It often works better that way than the sheriff having to hire back up to move him, and vendors to remove his belongings. Sheriff Saiki told me I could talk to Peter direct and he told me that Peter would not bother me. He made that clear to Peter.
I talked to Peter a number of times coordinating his removal of items and his departure date. He was always nice and cordial but I did not let down my guard. Peter during this time reveals to me he has cancer. This sometimes caused the delay in moving, him having to go to Oahu for doctor's appointments. It also rationalize to me why he did not seem like the angry mentally unstable person I heard about. When the date finally came for the "cash for keys"  it went smoothly and he was happy he found a place to move into. This is what bothers me: I literally gave him the money for rent and a security deposit to move into a new place. Joellen Hartman's home.
From what I heard and read , Joellen had a soft heart and was also told Peter had cancer. But a soft heart does not pay the bills. It is deduced that the eviction proceedings she started against Peter were a catalyst for Peter's murderous behavior. According to a tenant we had on Omao Road he often drove drunk and sideswiped our fence one time.
This story did not end well for Joellen. Peter got convicted of her murder  May 21, 2021 You can read the story here.
Kauai lost a beloved resident on June 19, 2018.  My sympathies to all who have known her and mourn her lost. We are all so connected on this island of Kauai. Although I feel like I played a part in this story, my brain tells me I have no fault in its final outcome.  However it doesn't stop me from feeling this is one sale I wish I wasn't involved in. Landord/Tenant disputes are not uncommon. Be careful. I know I will be. Julie