This blog is all about Wailua Bay View resort/condos. I also have linked a YouTube video where you can see the inside of this unit I have for sale unit 302.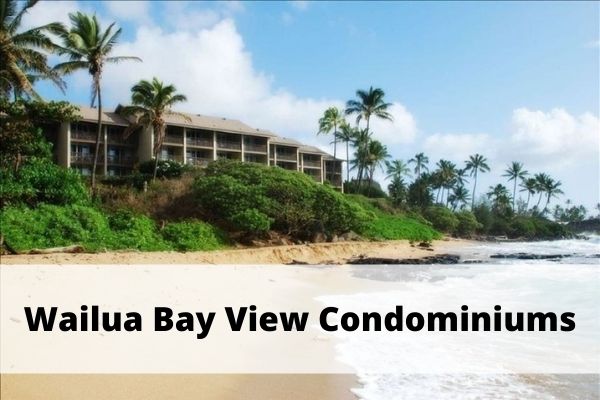 All About Wailua Bay View 
The Project
There are a total of 46 units at Wailua Bay View. The project is one building and all units are attached. Parking is non assigned and there does not seem to be a any parking issues. So ample parking for all owners and guests. There are 3 floors at Wailua Bay View and there is no elevator. There are two stair cases going up to the 2nd and 3rd floors.
A small office is located to the right of the building where the resident manager is there frequently. Below the office is a basement that holds a storage for each owner. About a 5 ft by 5 ft space where owners can store boogie boards, beach chairs, etc.
The AOAO company at Wailua Bay View is Hawaiiana Management. 
Inside Wailua Bay View
All the units at Wailua Bay View are one bedrooms one baths. They also include a full kitchen, living room, with washer and dryer units. My favorite thing about this project is that each unit has an amazing ocean view! They also all have lanais that can fit a table and chairs.
Upper units cannot have laminate/vinyl plank flooring in the living room and bedroom. You may notice most living rooms in this project have carpets in the living room and bedroom. Most of the units do not have air conditioning however I have seen portable units in the bedrooms.
Location
Wailua Bay View is located in between the ocean and the highway. However road noise is not all loud because the ocean acts as a natural white noise. Plus throughout most of the day traffic is not moving too quickly so cars are not speeding past. It is centrally located on the island. So going to Lihue is a quick drive and is about an  to the north shore and south shore.
The location of Wailua Bay View is walking distance to Wailua Beach and to shops and restaurants. Specifically walking distance to the Coconut Marketplace.
Other Details
Year Build: 1971
Interior Square footage: 686 sq. ft.
Monthly Assessment (currently 2022): $803
See my listing at Wailua Bay View unit 302