Want to know a quick rundown on Kauai real estate? These facts explain everything you need to know before starting your property search.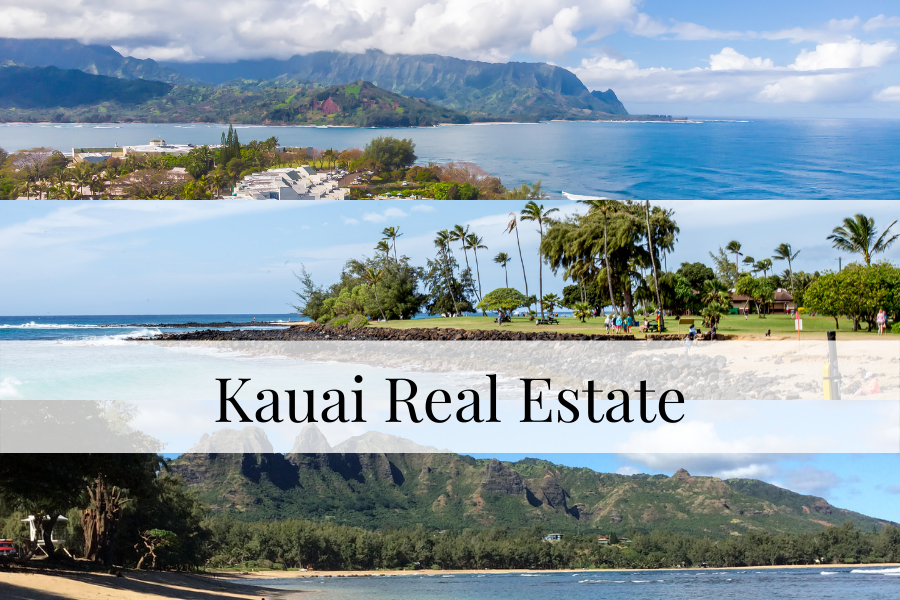 Buying real estate is super exciting! As a homeowner and Realtor, I know that there is so much to learn and every market is unique, especially on Kauai. Whether you are a local or from off-island a first-time home buyer or investor this post will prepare you for your purchase. It will cover 5 important facts that will be super helpful to know before you start your real estate search on Kauai.
You will understand the Kauai real estate market and everything you need to look for when finding a property.
After reading this post you will be fully prepared to ask the right questions and feel confident when you are viewing properties to making offers!
This post is all about important facts on Kaui real estate that every buyer should know about. 
The 411 on Kauai Real Estate 
Kauai Real Estate Prices
The prices here are driven up by supply and demand. Kauai is a small island with a very limited amount of inventory for sale. Our neighborhoods are also very different than those on the mainland. Many of our subdivisions are older and it's common to see a $1 million dollar next to a $550,000 home. Every property here is unique!
My Advice: Don't hesitate if there is a property you are interested in. The likeliness of finding another home just like it will be slim.
Fee Simple vs. Leasehold
Most properties are fee simple on Kauai meaning a person owns the property outright. There are a few properties on Kauai that are leasehold. Meaning when purchased someone is purchasing a lease and there is an underlying fee owner.
My Advice: Decide whether fee simple or leasehold is best for your situation. Leasehold properties can be cheaper however have an expiring lease.
Condominium Property Regime (CPR) Hawaii
A CPR can be land, residential, or apartment-style. Basically, people create CPR to divide ownership. This is a process done through the state. It is popular on Kauai because it's a way someone can divide ownership fairly easily. All CPR's have CPR documents which should include a CPR map, Bylaws, and a Declaration. Commonly they have common elements like a shared driveway. There can be a lot to know when purchasing a CPR. There is a blog linked below explaining CPRs in more detail.
My Advice: There is nothing wrong with purchasing a CPR property. Just be sure to read through the documents and check with the county about building if purchasing vacant land.
Cesspool vs. Septic
Kauai properties are either on a cesspool, septic, or sewer for wastewater. First understanding a cesspool and septic definition. A cesspool is a hole in the ground that collects waste. They usually have a cement cap. Septic is a septic tank that is in the ground that collects the solids while the liquids drain into a leach field (hole in the ground). Be aware that in 2050 the state is requiring everyone on a cesspool to upgrade to a septic tank. Learn more here about cesspool to septic conversion in 2050. 
My Advice: Cesspools are not a deal-breaker. Evaluate the overall situation and ask your Realtor if they can foresee any issues. Also, check with the Department of Health and ask to pull the cesspool/septic card.
Flood Zones on Kauai
Kauai is surrounded by water and not only by the ocean. Inland we have streams and rivers that can cause flooding. Flood insurance is required if obtaining a mortgage. Flood insurances can greatly differ depending on the flood zone and the age of the home and how the home was built. I've seen people pay flood insurance costing as much as a few thousand a month to only $45 a month. To find out if a property is in a flood zone click on this website here. 
My advice: Do the research and ask if there has been any previous flooding. I would take this case by case depending on the property.
Vacation Rentals
Not every property on Kauai is a legal vacation rental. In fact most properties especially residential homes cannot be vacation rented on Kauai. A vacation rental or short-term rental on Kauai is considered a rental that is less than 6 months. If wanting a short term vacation rental make sure its in the Visitor Destination Area (VDA) or is a legal Transient Vacation Rental (TVR). It's a 0% chance that the county will allow someone to turn their non-vacation rental property into a vacation rental. This is mainly because of the shortage of long term housing on Kauai.
My Advice: Buy a vacation rental on Kauai if you want to use the unit and will be visiting regularly. I wouldn't recommend buying one to make quick money. We have a year around tourist season however there are many costs in running a vacation rental here. 
This post is all about Kauai real estate to help you be as prepared as possible when starting your search for your Kauai property purchase!
Other Posts You May Like
   – Loan officers and Lenders on Kauai – My recommendations!