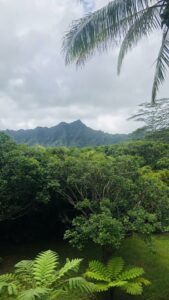 Living on the north shore is peaceful. Oftentimes so peaceful that a drive to Kapa'a or Lihue just doesn't seem worth it. The 'Ahuimanu center in Kilauea offers the Kilauea Market, Java Kai coffee, a fitness center, and new Sway Home furnishings store. The classic stone building and Kung Lung shopping center also offer shopping all within walking distance. This small town feel is perfect for anyone wishing to escape the city.
On the Kalihiwai Ridge lots are generally larger and you may get the privacy you desire.  Many properties have mountain views and some have ocean views in the distance. The properties are zoned agriculture and give you the ability to grow food on your property. The Jungle atmosphere on some properties allows tropicals to thrive. Enjoy monstera, heliconia, and ginger growing freely in the yard. Whether you are beachfront or Mountainside the beach is never far away. Anin'i or Kalihiwai beach are a short drive away to enjoy your beach time. The Kilauea Ridge is unique in that you can be surfing the blue waters one moment to saddling up your horse the next.
Glad to answer any questions about Kilauea or surrounding North Shore properties. Living here
has transformed my life in so many ways for the better.
Mahalo,
Robert Savin
Kaua'i Dreams Realty