The responsibilities of a real estate license are many. Every month the state of Hawaii puts out a bulletin to the RE licensees that includes Administrative Actions. As a self proclaimed Kauai real estate know it all, I like to read these stories to see what violations have occurred in my choice of profession. Most of them are the usual DUI cases. A DUI or OVUII is considered a criminal case and licensees are required to report the conviction to the state licensee board. But more often then not there is a Allegation & Violation of a serious financial matter, encom-passing fraud, embezzlement and other grave violations of a fiduciary matter to the license's client or to the general public.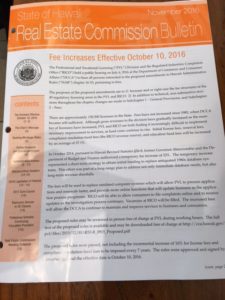 In the November 2016 State of Hawaii Real Estate Commission Bulletin there were 3 Administrative Actions that caught my interest. One involved a Kauai broker who ended up losing her license. For the purpose of this blog I will call her by her initials MSM. MSM had no intention of defrauding or embezzling any funds. But what I believe MSM did was "rent" the use of her broker's license to a company or individuals Solecrest Properties LLC, who did not have a real estate license but needed one to run the company Anini Aloha Vacation Rentals and Management. Read the Garden Island Newspaper article here "Vacation Rental Company Skips Town." In the Garden Island newspaper article MSM blames "the system" for the fraud committed against the public. However the system was not at fault here. She was, as the principal broker for the company, MSM was responsible for all the financial transactions and personel of the company. Contrary to Hawaii state law she chose not to participate in the financial part of the business. (my guess is she was just collecting a monthly fee). The consequence being she was unable to separate herself from the fraud in time and she lost her license. See Hawaii Disciplinary Actions Here.
If ever you have an issue with your real estate agent, the first thing you should do is contact their principal broker. It is the principal broker's (PB) responsibility to follow the law and protect the public against fraud and unethical practices. This is not a responsibility that can be delegated out. In choosing a Kauai Real Estate agent or broker you should check on the availability of the PB and their willingness to talk to you. Kauai real estate brokers should not be "renting" out their licenses to the highest bider.
Kauai Dreams Realty was chosen 2nd Place for Best of Kauai Real Estate company 2016 in the Garden Island Newspapers Best of Kauai 2016 poll.
Kauai Real Estate Fraud. Choosing a Kauai Real Estate Agent. Kauai Realtors.