Every year The Garden Island Newspaper holds "The Best of Kauai" People's Choice Awards. Kauai Dreams Realty was voted 3rd Place for best Real Estate Company on Kauai for 2021.  We are humbled and proud of our 3rd Place finish. We are a small locally owned business that truly cares about our clients and not just the commission check.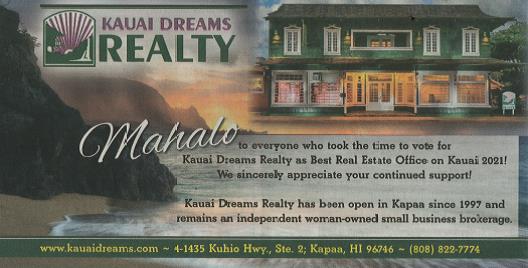 As a smaller local company we're always amazed that we garner so many votes compared to the larger franchised companies. This was truly a grass roots community vote and we are overjoyed with gratitude. Thank you to everyone who voted for us and supports us. We look forward to seeing & working with you in the future.
Feel free to call or email if you have any questions in regards to Kauai real estate. Office 808 822-7774 Check our Kauai Dreams Realty Team Page for our agent bios and contact info. We enjoy working hard to be one of Kauai's Best Real Estate companies.