This blog is all about my beachy ocean toddler bathroom ideas I did in my home.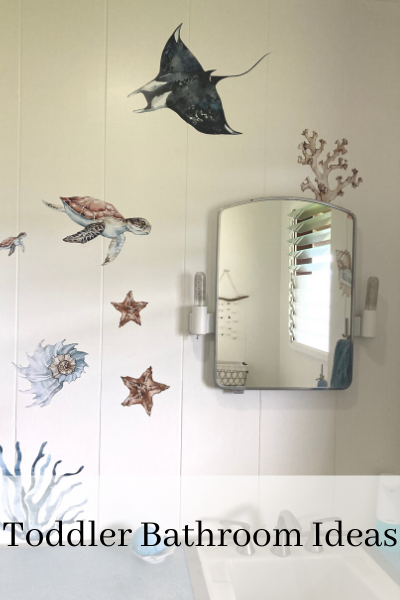 For many of us, the kid's bathroom is also the guest bathroom. I wanted to make our bathroom fun for our son yet visually appealing for myself and my guests. In this blog, I will show you how to make a guest friendly kid bathroom. It's really easy!
Today we are all about that Montessori life for our toddlers. Like Maria Montessori said a child needs a simple environment. The same goes for the bathroom. A child does not need much!
To make a kids bathroom fun is simple and can be done easily. Here are my simple and easy toddler bathroom ideas.
Toddler Bathroom Ideas
Some of these links contain affiliate links where I may get a small commission at no cost to the buyer. I appreciate the support.
The key to having a toddler and guest friendly bathroom is to have fun elements but keep the shower curtain, bathmats/rugs, trash cans, towels etc. Plain and simple and work with your personal interior design style. A dinosaur rug is not necessary in my opinion. Plus when you purchase plain rugs and shower curtains you can switch them to different bathrooms.
Toddler bathroom decor
I decided to go with wall decals. Honestly, this is the last thing I thought I would do because I was worried about taking them off the wall. But the bathroom is a very moist place and I doubt I will have trouble taking these off when the time comes.
What I love about wall decals is that there are so many amazing options on Etsy. Options that kids would enjoy and also adults. This underwater set I got is beautiful. Here is the link for this set.
Beach and ocean themes are great for bathrooms because the bathroom already has water everywhere. You don't have to live near the ocean to pull off this look. I highly recommend going with a beachy or nautical theme for your bathroom. Even Cocomelon has a nautical-themed bathroom.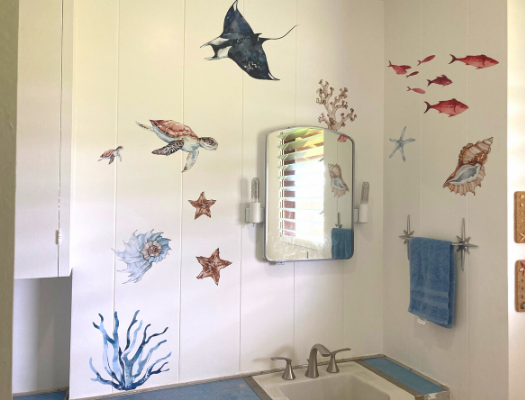 Fun soap dispenser
Nothing is more fun than an automatic soap dispenser that dispenses bubbles! I've tried looking for an underwater/kids automatic soap dispenser however none of them look reliable or had good reviews. It's ok because a plain soap dispenser works just fine and will go with any theme.
Toddler bathroom stool
Believe it or not, I could not find a plastic step stool anywhere I lived. So I bought this wooden one that is very stable and super easy to assemble. This works great for my son.
Toddler potty chair
This is the best toddler potty chair. It's low enough that babies actually feel comfortable mounting it. I highly recommend this chair it can be found on Amazon.
Bath toy organizer
I searched all over Amazon to find a bath toy organizer and I haven't found one that I liked. So instead I'm using this unused colander that I had in my kitchen. It matches the under the water theme and it was free. Plus I can drain it in the sink.
Having a bath toy organizer is a must if guests will be using this bathroom as well.This is the best bath toy organizer I found and it looks fairly large so if your child has a lot of bath toys this would be perfect.
Toddler accessible hamper
Anything a toddler can reach. These woven baskets on Amazon are really cute and work really well with any bathroom.
This blog is all about easy toddler bathroom ideas that are guest-friendly. This bathroom is 100% functional for my toddler and I hope your bathroom will be too. Like Maria Montessori said a child only needs a simple environment. A bathroom should be simple to do what you have to do!