Kauai REO, Kauai Foreclosures, April/May 2018 List
This is my monthly Kauai REO, Kauai Foreclosures Blog. It is a compilation all Kauai MLS listed bank owned properties. It is updated at least once a month or more if the Kauai REO activity has increased.
Upcoming Kauai REOs: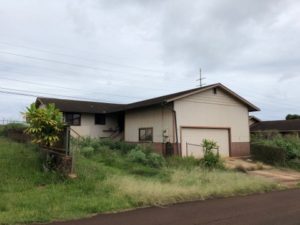 Active Kauai REOs, Kauai MLS Listed: (highlighted MLS numbers are links)
KAUAI REO'S WITH ACCEPTED OFFERS/IN ESCROW:
Kauai REO-Foreclosures SOLD for Mach & April 2018:
Kauai Beach Resort # 1329. studio condo $69,900. MLS# 612025 Serviced by Select Portfolio Servicing. Sold for $75,000 Cash 4/13/18.
5119 Kapiolani Loop, Princeville. 4 bedroom 3 bath $950,000. MLS# 615744 Owned by HSBC bank USA. Sold for $871,500 Cash on 4/20/18.
280 Kalili Pl, Kapaa. 5 Bedroom 2 bath home on large lot. $516,000. Sold for $536,000 Cash 4/23/18. MLS#614165.
4594-A Haleilio Rd, Wailua Houselots, 2/2 sold occupied. Reduced $422,750 MLS#613413. Owned by HSBC BANK USA .
4486 Malulani St, Kilauea. Remodeled  home with a family room/studio attached. Back of house borders the highway. $599,500 Owned by MTGLQ Investors. Sold for $595,000 CNV on 3/9/18.
I skipped a month of blogging due to being busy with work and visiting family.  Let me know if you want to see any of the properties or are curious about any upcoming REO. Kauai has been having a bit of rain lately to say the least. Will this affect prices Hanalei & north? Probably but it's to soon to tell what the long term affects are. It is always a good idea when you buy to assess how your property will fair during a storm or natural disaster.  Call 808 652-6174 or email me or your agent if you have any Kauai real estate questions.  Aloha Julie