Bill 2627 Passed Relating to Additional Rental Units in Lihue
It is no secret Kauai is a growing community and there is a shortage of affordable housing. The Lihue Community Plan approved by the County Council in June 2015 stated that between years 2010 – 2035 they anticipate approximately 10,000 more housing units will be needed on Kauai. A little less than half of that is expected to be needed in Lihue.   Believe it or not the purpose of this bill is to encourage the use of additional rental units! (In Lihue including Hanamaulu and Puhi). Previously I feel like all of my articles suggest the county might not support additional rental units. This is meant to help provide housing for our growing population and shortage of affordable rentals. There are a few guidelines for these affordable rental units. In my opinion they are not restrictive at all.
Guidelines:   The definition of an additional rental unit is a separate unit that has its own kitchen, bedroom(s) and bathroom. It can be attached or detached from the main dwelling. Its purpose must be for a long term rental (6 months or longer) and not to be used as a vacation rental.   One additional rental unit will be allowed in the Lihue Districts on lots in the Residential R-4 and R-6 zoning districts. Maximum size of the additional rental unit shall be:
Lot size
Maximum Floor Area
3,500 – 4,999 sq ft —– 400 sq ft.              5,000 sq ft or more —– 800 sq ft.
Not permitted on lots under 3,500 sq. ft. For lots that already have more than one existing dwelling unit one may be converted to the additional dwelling unit. In this case where a property already has multiple dwelling units, no other new additional dwelling unit will be allowed. These cannot be CPR'd.   Before reviewing the building permit the public facilities must be found adequate to serve the additional rental unit. Related to Sewer, Water, Fire Department approval.   I left out a couple of other guidelines that can be found in Bill 2627. Date of Introduction April 6, 2016.
Council Member A. Kaneshiro has proposed a drafted bill (no. 2634) to allow additional rental units for the whole island in Residential zones.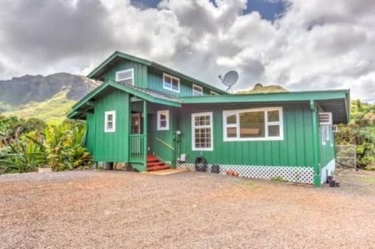 MLS 295295 — $725,000 –.This 2 bed/3 bath Hawaiian style home is located a ways back from the highway in Anahola on 2.01 acres. It is not immediately visible from Kuhio Highway. Freshly painted with a new kitchen and new flooring this home is move-in ready. The master bedroom and main living area are on the ground floor. The other 2 other bedrooms are upstairs. The home overlooks the Anahola Kalalea mountain range.