This blog is all about the Sun Village Condominium Complex in Kauai, Hawaii.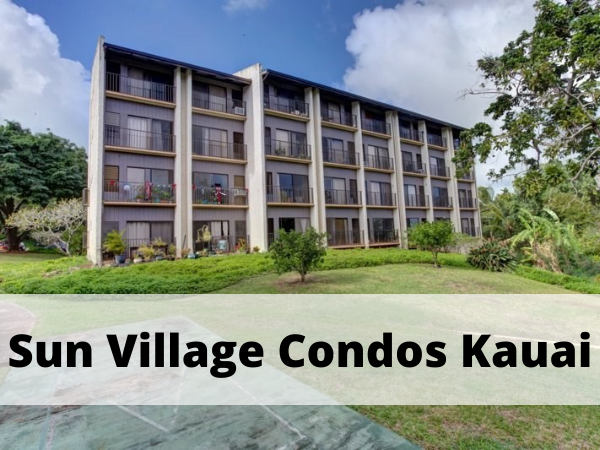 Many people end up having a few questions about Sun Village. First, because it's a Leasehold project, and second because it's the only condominium project on Kauai with an age restriction.
In this blog, I will explain as much information as I know about Sun Village to help answer any questions. This way you can get to know if the condominium project is right for you.
The 411 on the Sun Village Condos on Kauai
Basic Information
Sun Village is located in Lihue near the Wilcox Hospital (Kauai's main hospital). It is also a Leasehold meaning someone only owns the property for the remaining time of the lease. The Fee is owned by a charitable foundation ~ The Wineberg foundation.
There is also an age restriction of 55 years or older. So one person must be at least 55 years or older living in the unit. An owner can be under the age of 55 years. However, they could only occupy the unit if living with someone 55 or older. I also believe there is a minimum age requirement.
There are 3 buildings A, B & C. These condos allow long-term rentals only a 6-month lease or longer.
Amenities
Right next to Wilcox hospital and Walmart.
Some units have ocean & valley views.
Amenities include pool, rec. room, library, and some outdoor gardening.
Allows pets.
Storage area for each unit in the basement. This is a big plus! Not many condo projects on Kauai have this much storage.
Elevators.
Lots of guest parking.
Fees
There is an HOA fee for basic things like trash, sewer, water, maintenance of the grounds and pool. There is an additional fee since the property is leasehold and this is called the leasehold rent. The leasehold rent and HOA fee both seem to correlate with the square footage of the unit. The bigger square footage of a unit the higher the fees will be.
Purchasing Information
The best way to purchase a Sun Village condo is of course with cash. It is possible to purchase a unit with a mortgage however the mortgage term has to be shorter than the lease expiration date. See a list of lenders I recommend here.
Why People Buy at Sun Village
Many people buy here to downsize! The location of Wilcox and the medical clinic is also a plus for those who have to visit their doctor frequently.
Overall Sun Village seems like a great place to live and a tight community with neighbors who look out for each other. I've sold a few units to buyers and they are all happy in their units.
The prices are also lower than other fee simple condominiums on Kauai.
If you have any other questions about purchasing or selling a condo at Sun Village, give me a call (808) 652-6173.