Here is my laundry room makeover on a budget.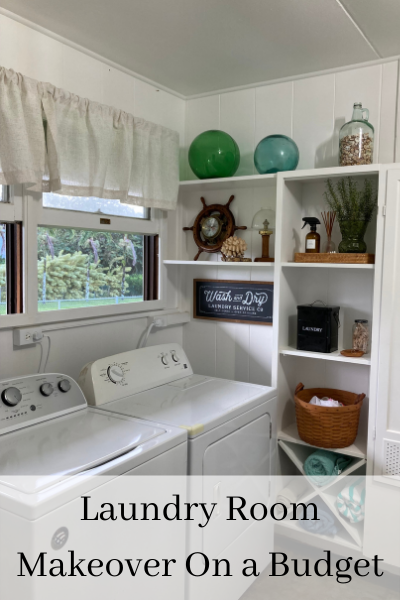 If there is one room to decorate https://lovehomeandrealestate.com/laundry-room-makeover-on-a-budgetor renovate on a budget. Make it your laundry room! Why? Because not many people will be looking in it and you won't be spending most of your time there. I've seen many laundry rooms and they don't need fancy tiled backsplashes. Are you wondering how to do a laundry room makeover on a budget? Most laundry rooms just need some style and decorating. I'm hoping my laundry room makeover will inspire you.
Like decorating any space it's important to ponder and research a little on your vision for the room.
I decided to go for a beachy laundry room look with a little bit of farmhouse in black and white and some vintage. Check out my laundry room makeover on a budget.
Laundry Room Makeover On A Budget
Before:
After:
Here is my vintage, farmhouse, beach house laundry room makeover on a budget.
My inspiration for this laundry room came from another home that I sold that had a tropical beach home look. The only thing that I did that was not affordable was changing my door. I had to get a custom-made door because my home was built in 1953 nothing at Home Depot would fit.
The first and hardest part of this laundry room makeover on a budget was tearing off the ugly stick on tiles. There was beautiful concrete underneath the tiles that I love way more. I love naked floors. Having naked floors is an affordable way
The rest was easy and fun. I decided to get these signs off of amazon.
I love these valances! The quality is great and it has a farmhouse country look and really affordable. I also really love the baskets and the laundry container that can hold either dry or pod detergent.
The rest of the items I either got from clients who were selling their homes or my parent's house. That is where I got my glass balls from. My dad found all of these except for one that my uncle found. The washboard belonged to my grandma. Check out your parent's or grandparents' home for vintage items! The basket and bottle holding the shells I got from a thrift store.
Here are a few other tips for a laundry room makeover on a budget:
+ Be practical! -Our shower turned into a multiple hamper area for my boyfriend.
+ Spray paint your washer/dryer cords. (I'm not sure if this is a safety issue, I'll find out soon).
+ Have fun with it. It can be a place to experiment or place art that feels misplaced in other parts of your home.
+ Try out some woodworking. We made an X in one of our open shelves for towels. It wasn't the easiest thing because our shelves are not square. But we made it work and I figure it won't be holding anything heavy.