This is my monthly Kauai REO, Kauai Foreclosures Blog. It is a compilation all Kauai MLS listed bank owned properties. It is updated at least once a month or more if the Kauai REO activity has increased.
Upcoming Kauai REOs: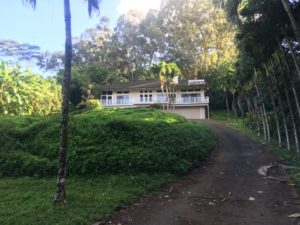 An upcoming Wailua Homesteads house.
I decided to add a category of Upcoming Kauai REOs. Most of them don't have prices and can not yet be seen. However if this is a property you think you might be interested in you can email me julie@kauaidreams.com or call 808 652-6174 and I will notify you when it is on the market. However if you are working with another agent, have them email me. They will be notified. My time is for my clients. But I do cooperate fully with other agents.
Active Kauai REOs, Kauai MLS Listed: (highlighted mls numbers are links)
3313 Elima St, Lihue

. 3 bedroom 1.5 bath on a large level lot. $586,900. MLS#614579. Owned by US Bank Trust. Elima 3D video tour 
5463 Kawaihau Rd, Kapaa. Multi dwelling sold Occupied. MLS#614575. $529,900. Owned by Wells Fargo.
1231 Nohea St, Kakela Makai, Kalaheo. 3/2 newer home with unfinished downstairs. Ocean views, MLS#614436 $858,000. Serviced by SPS Loan Servicing.
280 Kalili Pl, Wailua Homesteads. 5/2 home in need of work. $516,000. MLS#614165. Owned by Fannie Mae.
3830 Hanapepe Road, Hanapepe. Termite ridden multi family

Reduced

$313,900.  MLS#613554 Owned by  

DEUTSCHE BANK .

4758 Lae Rd #A, Kalaheo. 1/1 on 3 acres. $698,000. MLS#613705.  Owned by KauaiCommunity FCU.
1904 Leleiona St, Lihue/Puhi. 6/3.5 home. $574,900. MLS#613854. Owned by Freddie Mac.
Gallo Pl, Kalaheo. 2 bedroom 1 bath on top with a bedroom 1 bath studio below. MLS#610706  

Reduced

. $679,900. Owned by Selling Finance.
4594-A Haleilio Rd, Wailua Houselots, 2/2 sold occupied.

Reduced

$422,750 MLS#613413. Owned by HSBC BANK USA .
3292-D Kalihiwai Road. 4 bedroom 4 bath estate. $3,995,000. MLS# 607132. Owned by Bankcentre Corp.
Hauaala Road, Kapaa.  Vacant CPR lot 18,513 sq.ft. MLS#613696. Owned by Kauai Community FCU.
KAUAI REO'S WITH ACCEPTED OFFERS/IN ESCROW:
4671 Palila Loop, Kekaha. Legal Duplex $577,500. MLS# 613241. Owned by Bayview Servicing.
Kauai Beach Resort # 1329. studio condo $69,900. MLS# 612025 Serviced by Select Portfolio Servicing.
Cliffs at Princeville #1104. 1 bedroom 2 bath condo. $305,500. MLS#611905. Owned by Altisource.
4486 Malulani St, Kilauea. Remodeled  home with a family room/studio attached. Back of house borders the highway. $599,500 Owned by MTGLQ Investors.
1633 Kuahale St, Kapaa. 3/2.5 $470,000. MLS#613706. Owned by PennyMac.
712 Akalei, Eleele. 4/2 house. MLS#614078. $475,000. Owned by FannieMae.
1791-A Makaleha Pl, Kapaa. 3 bedroom 4 bath 2 story home with lock-out. $780,500. MLS#611296. Owned by Altisource.
4595 Malulani Place, Kilauea. Older 3/2 home. $564,900. MLS#614296.  Owned by Bank of New York Mellon.
1633 Kuahale St, Kapaa 3/2,5 house. $470,000. MLS#613706. Owned by PennyMac.
Kauai REO-Foreclosures SOLD for January 2018:
4546 Ehako St, Lawai 3/2 fixer. $334,900 MLS#613243. Owned by Bank of America. Sold for $365,000.
3222 Inouye St., Lihue. 6 bedooms 2 bath. $325000. MLS#611991. Owned by Bank of New York Mellon. Sold for $350,000 cash 1/5/18.
5146 Hanalei Plantation Road, Princeville 3/2.5 home with view. $980000. MLS# 613246. Owned by Nationstar. Sold for $1,015,000 cash 1/29/18.
2198 Ioela St, Kilauea. 5 bedroom 4bath home with views of Kilauea Valley & the ocean. Reduced$799,900. MLS#610218. Serviced by SPS Loan Servicing. Sold $785,000 CNV 1/19/18.
4589 Nanamua St., Kekaha. 43bedroom 1.5 bath home. $370,000.  MLS#609832.  Sold $365,000 on 1/22/18. USDA Direct.
3166 Akahi St, Lihue. 2 bedoom 1.5 bath. $395000. MLS#611767. Owned by Fannie Mae. Sold $395,000 CNV 2/2c
The Kauai REO activity has picked up. Let me know if you want to see any of the properties or are curious about any upcoming REO. Call or email me or your agent. Aloha Julie