This blog is a list of foreclosure or bank owned (REO) properties for sale on the island of Kauai.  Refer to www.kauaidreams.com for more Kauai REO & Kauai foreclosure properties.
UPCOMING KAUAI REOS: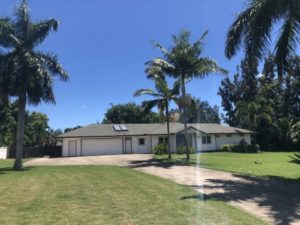 4560 HOOMANA RD, LIHUE
THIS PROPERTY HAS A FORECLOSURE DATE OF 1/3/2020. If the bank is the high bidder I will be the listing broker.
ACTIVE Kauai REOs, Kauai MLS Listed: (highlighted MLS numbers are links).
2253 Poipu Road #119, Koloa. 1 bedroom 1 bath.

MLS# 632976.

Reduced

to $98,000. LEASEHOLD Owned by First Hawaiian Bank.
8569 Kiowea Rd, Kekaha. 3 bedroom 1.5 bath home. ML

S# 634515.

Reduced

to $451,250. Owned by Federal National Mortgage Association.
Kauai REOs With ACCEPTED OFFERS/IN ESCROW:
8322 Mahiko Pl, Kekaha. 4 bedroom 1 bath home.MLS# 632171. $224,900. Owned by Deutsche Bank National Trust Co.
4025 Palikea St, Lihue. 6 bedroom 3.5 bath home. MLS# 630985. $439,000. Owned by IXIS REAL ESTATE CAPITAL TRUST 2007 HEI, Trust. Marketed by Hubzu.
5004-A Awawa Rd, Hanapepe. 3 bedroom 2 bath home. MLS# 634561. $520,000. Owned by Bank of New York Mellon.
Kauai REO-Foreclosures SOLD for December 2019:
Sun Village #B108A, Lihue. Studio 1 bath. MLS# 626557. Reduced to $114,900. LEASEHOLD Owned by US BANK TRUST NA. Sold for $114,900 CASH on 12/6/19.
4325 Ioela Pl, Kilauea. 3 bedroom 3 bath home. Reduced to $499,900. MLS#632498. Owned by The Bank of New York Mellon. Sold for $461,000. CASH on 12/31/2019.
Editorial:
As of todays MLS count there was 1162 closed fee simples sales on the island of Kauai. 49 of those sales were Kauai REO sales. That is just a little over 4% of the Kauai real estate market. I do have a number of REOs assigned to me but not ready for listing. One bank in particular  wants to repair and upgrade its properties prior to selling. This is a great idea except the banks payment terms do not include an initial material draw. I'm having a hard time finding license contractors agreeing to their terms.
Hau'oli Makahiki Hou
Are you ready to buy Kauai real estate this year? Perhaps a Kauai foreclosure?  Let us know at Kauai Dreams Realty. We have a great staff, ready to work hard to find you that right property. Call 808 652-6174 or email today julie@hisemail.net .