This blog is a list of foreclosure or bank owned (REO) properties for sale on the island of Kauai.  Refer to
 www.kauaidreams.com
 for more Kauai REO & Kauai foreclosure properties.
Upcoming Kauai REOS: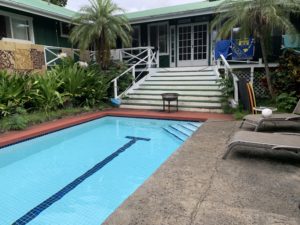 Undisclosed Kauai location for now. But should be on the market in about 3 months.
ACTIVE KAUAI REOS, KAUAI MLS LISTED: (HIGHLIGHTED MLS NUMBERS ARE LINKS):
7079 Alamihi Rd, Wainiha. 11,375 sqft of vacant land.MLS# 641306.  $293,900. Owned by Deutsche Bank National Trust Company.
Lau Nahele St, Koloa. Lot 22 Kukui'ula Subdivision. The lowest priced vacant lot in Kukui'ula.! This homesite in the Kaulu Neighborhood of Kukui'ula and borders a greenbelt with a small babbling stream & waterfall . $555,900. MLS# 643222. Owned by BMO Harris Bank.
KAUAI REOS WITH ACCEPTED OFFERS/IN ESCROW:
 5-7275 KUHIO HWY Hanalei, Walking distance to beautiful beaches. Due to being close to the beach the home was originally built under modern code as it is in the VE Base Flood Elevation determined flood zone $810,000. MLS#640511. $810,000. OWNED BY BANK OF NEW YORK.
5415 Makaloa St, Kapaa. 2 story 3 bedroom 3 bathroom in Waialeale Estates. $519,400. MLS# 638578. Owned by US BANK NATIONAL ASSOC, TTE, c/o:PHH MORTGAGE CORP
4523 Kauai Rd, Kealia. 3 bedroom 1 bath older home with ocean view. $549,900. MLS#643882.
2479 Oka St., Kilauea. 3 bedroom 1 bath home in need of repair. $474,900. MLS#641921. Owned by Kondaur Capital.
2963 Pua Nani St, Lihue. 4 bedrooms 3 bath built in 1993.  Reduced. $ 614,900. Large corner lot in the established Pua Nani subdivision. Priced below the 2020 tax assessment of $732,900. Great location with curb appeal. MLS# 639555. Owned by RESIDENTIAL CREDIT OPPORTUNITIES
Hookena at Puhi #204. This 3 bedroom 2.5 bath with 2 car garage condo has been remodeled and is move in read.MLS# 638790.  Reduced $499,900. Owned/Serviced by Hudson Homes Management for US Bank Trust.
Kauai Beach Resort 2440. A studio unit. beautifully renovated ocean front condominium hotel with all the comforts of a world class resort. Includes use of a spa & fitness center, landscaped grounds, dazzling pools, jacuzzis, waterfalls & waterslides, store & gift shop, restaurant, lounge, meeting rooms and banquet facilities. Although some amenities may be closed due to Covid. Overlooking 3 miles of white sandy beach. $114,000. mLS#642845. Owned by Chase Bank.
KAUAI REO-FORECLOSURES SOLD FOR October 2020:  
6780 KOOLAU RD Anahola, 1 bedroom 1867 sq.ft.living area on over 1 acre. MLS #640749. $1,050,900. Owned by Bank of New York. Sold for $892,500 CNV 10/8/2020.
Editorial:
There definitely has been a lack of Kauai Foreclosures, primarily because of the CARES ACT which forbids foreclosures of properties with Federally back mortgages. It appears in order to get title insurance on a property, the selling bank on a Kauai REO, needs to have a declaration that the property did not have a federally backed mortgage. This is holding up the closing of a couple of my escrows.
Despite the world wide pandemic, Kauai real estate is in demand. Hopefully more REOs and Kauai real state in general will be opening up for more inventory.
Feel free to email me or call 808 652-6174 if you are interested in buying or selling Kauai real estate.
Aloha Julie